PCI DSS compliance introduction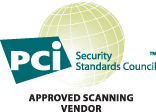 Payment Card Industry Data Security Standard (PCI DSS) compliance is designed to protect businesses and their customers against payment card theft and fraud. Whether you process payment cards online or in person, SecurityMetrics PCI Focus guides you through PCI requirements to help you avoid data theft. If your business accepts, stores, or transmits card data, PCI DSS compliance is required by card brands such as Visa, MasterCard and Discover.
Simplify PCI compliance certification
Without direction, PCI compliance can be frustrating for merchants and service providers. Since 2001, SecurityMetrics has developed methods and expert tools that simplify PCI compliance.
Achieve and maintain PCI compliance
PCI compliance is not a single event, but an ongoing process. As technology and card processing situations change, SecurityMetrics PCI Focus is designed to help you achieve and maintain PCI compliance.